A European first! Unique in Belgium!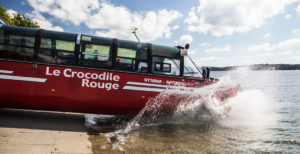 Want to travel on land and water? The Red Crocodile, amphibus and flagship attraction on the lakes, has many surprises in store for you. It is not just a simple bus ride that will turn into a cruise once on the lake; it is an unusual experience where you can relax while learning various information and anecdotes during an exciting and unusual adventure.
Between questions and astonishment, no doubt is allowed ... You will be conquered. Don't forget the famous dive of this strange machine, but don't worry .... It doesn't sink, it floats ....
Duration of the activity: 1 hour
Discount vouchers and packs are temporarily not accepted when booking online, please inform us by email before booking.
Hors vacances scolaires de mai à début novembre : Ouverture les mercredis & week-ends
Pendant les vacances scolaires de mai à début novembre : Ouverture tous les jours
Attention: Schedule subject to change.
Reservation strongly recommended
Price:
Adulte : 23,00 €
Enfant (4-12 ans): 21,00 €
Child -4 years old : Free
Groupe minimum 20 personnes: 21,00 €/p
Loading in progress...